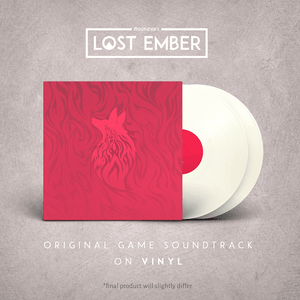 Mooneye Store
Lost Ember Soundtrack - Vinyl
A soundtrack as colorful, diverse and beautiful as Lost Ember's flora and fauna.

The Original Game Soundtrack contains every piece of in-game and the beloved trailer songs "All that you are", "Your Light" and the brand-new "Come Back Home" featured in the release trailer.
Let our soundtrack take you back to the land that once was home to the Yanrana and relive your journey through the vast landscapes of Lost Ember.
Looking for that extravagant touch? Get our soundtrack on vinyl! 

Tracklist

Main Title
Flashback I
Companionship
A Great Gift
Light & Dark
Raid
Hummingbird
Forgotten Love
Flashback II
Wall'qa
Home
Rising Soul
Flashback III
Gathering Followers
Flashback IV
Windtunnel
The Calm Before the Storm
In Sight
Whispering Towers
Flashback V - Burial Ceremony
Close to the Sun
Entering City
The Temple
Taking Action
Breaking Point
Everything She Hoped
Finally in Reach
The Fire
Flashback VI
Things We've Lost in the Fire
Fireflies
Wayla
Past Mistakes
Separated from the Herd
New Friends
Reunited
Terrible Truth
No Turning Back
Flashback VII
Temple of the Sun
Funeral
City of Light
Forgiving
Ending
All That You Are
Come Back Home
Announcement Trailer
Your Light
Your Light - Instrumental
All That You Are - Instrumental

Total length: 99:23:00

Credits

Composed by Will Morton
Dorian Behner
John Broomhall
Craig Connor
Maisy Kay
Regular price
$45.00
$0.00
Unit price
per
---